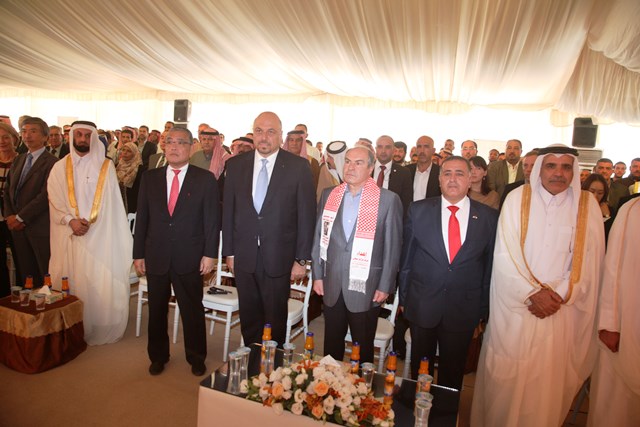 During an event held at site in Ma'an on October 10th, 2016, under the Royal  Patronage and in the presence of the Prime Minister H.E. Dr. Hani Al Mulqi, Shams Ma'an officially announced the launching of the Production Phase for generating electricity from photovoltaic cells where his Excellency removed the curtain on the Foundation Stone at the beginning of the ceremony.
The event highlighted electricity generation from solar energy in Ma'an Development Area, where it was constructed on an area of 2 million square meters, with an investment of approximately USD 170 million, and a generating capacity of about 52.5 MW at which 605,400 solar panels, from First Solar Electric,were used for the production of about 160 GWh per year.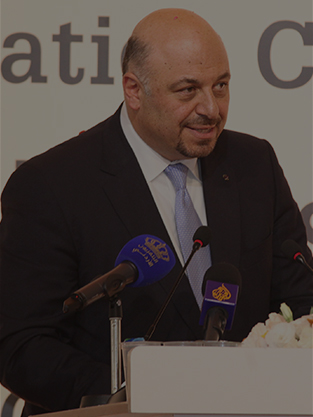 On this occasion, Mr. Karim Kawar, Chairman of the Board of Directors of Shams Ma'an Company pointed out the importance of this vital project for Jordan and the future of clean energy saying: "Shams Ma'an Project will be a pioneer in the field of renewable energy projects in Jordan, as the year 2016 will represent a point of commitment and cooperation between public and private sectors to find practical solutions to the problem of energy in Jordan. This project is designed in accordance with the highest international standards using sustainable photovoltaic cells for the production of electricity from solar energy, as Jordan is privileged to have sunlight which is considered among the highest rates in the world. Mr. Kawar added that this project will put Jordan on the renewable energy map in terms of size, investment and productivity and that it has contributed to achieving energy strategic goals in general and renewable energy in particular. Finally, Mr. Kawar emphasized Shamsmaan's Social Responsibility towards the local community specially youth and education by supporting local NGO's active Community Centers.
Mr. Fahed Al-Muhannadi, Chairman of Nebras Power indicated that Shams Ma'an Project is considered a great achievement as it is the largest Solar Energy Plant in the Kingdom which is an expansion for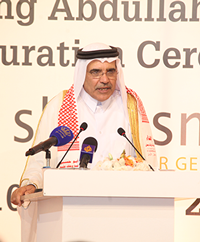 Qatari investments in the field of power generation in Jordan. Nebras invested first in East Amman Plant for Generating Electricity followed by Shams Ma'an and finally taking over a share in IPP4. Due to an increasing demand in electricity in Jordan, Mr. Muhannadi said that the Kingdom will remain on their top priority list for investment. Furthermore, Mr. Muhannadi highlighted that Shams Ma'an is an excellent example of cooperation between International Companies from Jordan, Qatar and Japan to develop such a pivotal project using their vast expertise, manpower and utilization of Jordan's natural resources.
On his part, Mr. Katsuya Nakanishi, Senior Vice President, Regional CEO-Middle East and Central Asia of Mitsubishi Corporation, expressed his happiness to participate in such a huge project by saying: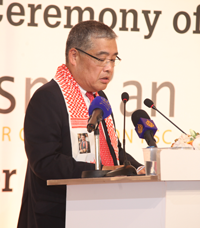 "Today, I am honored to attend the inauguration ceremony of "Shams Ma'an", the largest PV project in Jordan, after the success we had in running the tri-fuel power plant IPP3, which is considered the world's largest and best power generation plant for diesel engines; generating a capacity of up to 573 MW, which has set a world record in the Guinness World Records. Mr. Nakanishi also emphasized Mitsubishi's commitment to CSR such as the provision/donation of clean energy & water, thus, improving the learning environment for the youth in the region.   
Mr. Majed Sharari,Mayor of Ma'an said that this project has transformed the desert into heaven and thanked all partners/shareholders for executing this project which had a positive impact on the citizens of Ma'an  by providing job opportunities, thus, reducing the number of unemployed. Mr. Sharari also emphasized the company's social responsibility towards the local community by supporting the Municipality, charitable organizations, sport clubs and authers and that Shams Ma'an is the only one active in CSR.
Finally, Eng. Hussein Kreishan said in his speech that the role of MDC is to realize his Majesty's vision to reduce the gap between provinces and strengthen Ma'an as part of development in the Kingdom. Since MDC's establishment we have transformed Ma'an into a vital regional center in the renewable energy sector due to it's geographical location as other projects have been executed which shed light on Ma'an as a region for developing renewable energy.
Noting that "Shams Ma'an" project will produce 160 GWh per year using the latest techniques used in this area, which is equivalent to 1% of the current electric power production in Jordan, as well as preventing the emission of 90 thousand tons of Carbon Dioxide (CO2) gas, using a limited amount of water during operations.
The project will also have a positive socio-economic impact on south of Jordan in general and Governorate of Ma'an in particular as it has created around 1400 job opportunities during the construction phase, in addition to 25 permanent jobs during the Operation and Maintenance phase. It will also contribute to raising awareness about this important sector by establishing a center of excellence for research and development of renewable energy in partnership with Al-Hussein Bin Talal University and Ma'an Development Company.  Moreover, the project will directly support the energy strategy in Jordan and enhance the energy industry in general, promoting Jordan's independence in the field of energy. Furthermore, Social Responsibility initiatives by Shams Ma'an will contribute to the creation of sustainable development programs focusing on youth and education through supporting local non-governmental organizations and active community centers.
The Ceremony has been attended by current and ex Ministers as well as Members of the Parliament, Senators in addition to Tribal Heads and Leaders from Ma'an.
At the end of the event, His Excellency the Prime Minister Dr. Hani Al-Mulki along with the Shareholders pressed the button declaring the official production of the plant  while Ma'an Folklore Band performed the authentic Jordanian  Ma'ani Dabkeh..